I get lots of messages on my Listed Home Instagram account, asking about my stone floor in our downstairs living space.
I thought, I'd write about it on here so I have somewhere to direct the next person to, that asks me!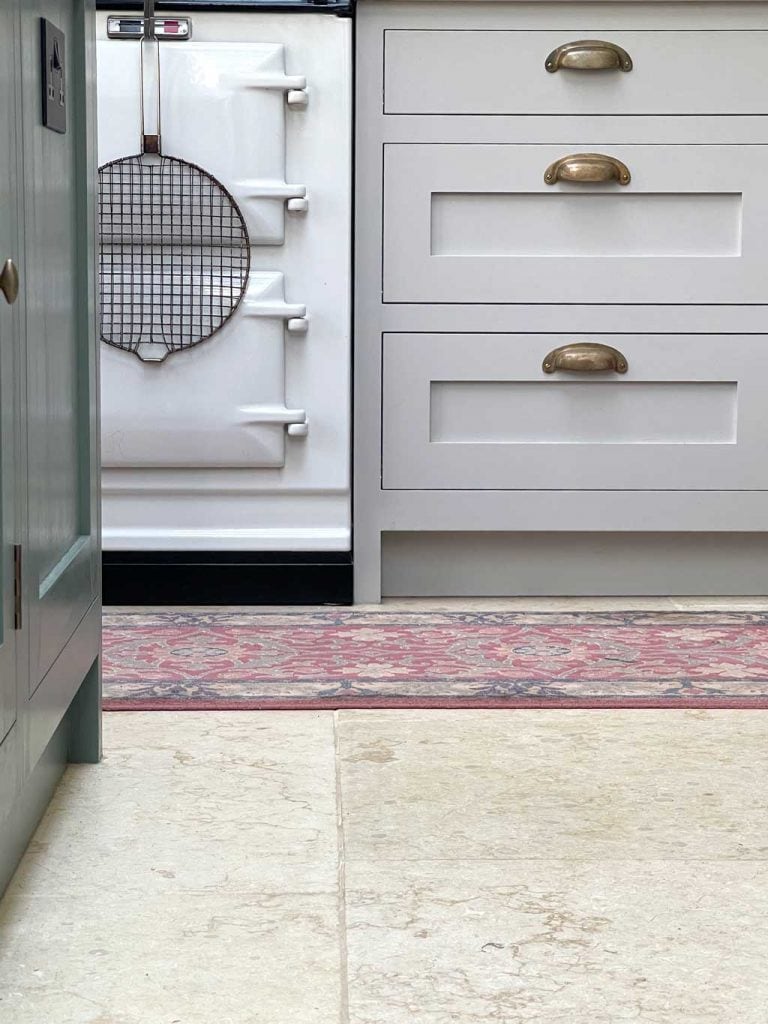 We bought our limestone flooring — and matching exterior paving — from Quorn Stone; Google 'My Stone Floor' and they'll also pop up.
They're fairly local to us but as we bought the tiles during the first lockdown, we weren't able to go to their showroom and look at the limestone up close.
But it wasn't a problem; they have a brilliant website and you can order up to four samples for free — and a further four for just £4.92.
And, if you're still struggling to make your mind up, full tile samples are also available for a charge.
Perfect if you're not in driving distance of their showrooms.
Quick View of What You'll Find on This Page
Limestone Flooring From Quorn Stone
I ordered samples from 3 or 4 different suppliers but the limestone from Quorn Stone was by far our favourite.
I was looking at Dijon Limestone initially but Crema Castello caught my eye too.
In the end, the Monte Carlo tumbled limestone tiles won our hearts.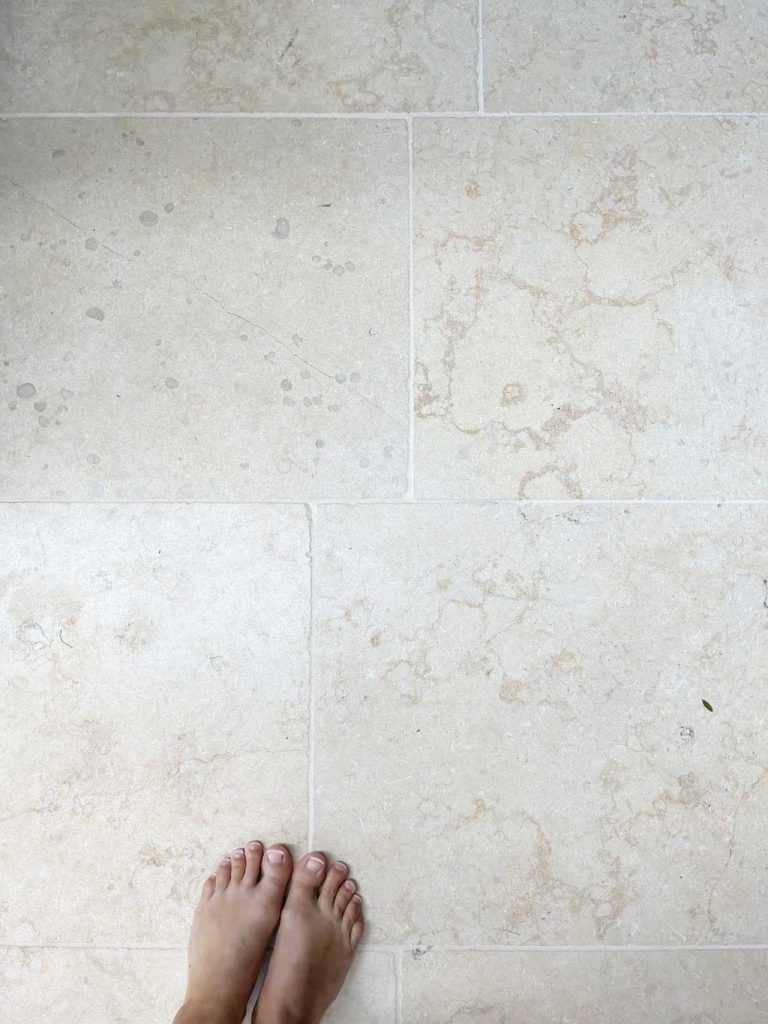 Its milky pale tones work really well with the stone walls in our house. It's the most beautiful stone and — incredibly — my stone floor is one of their more affordable options.
Monte Carlo limestone starts at just £33 per m2 — which is cheaper than some luxury vinyl flooring.
But for me, limestone is a clear winner as it's really durable. Unlike vinyl (even the most expensive kind) it won't dent or tear.
About Quorn Stone
Quorn Flooring are a lovely company to deal with.
Very knowledgable and friendly and will answer any questions you might have. As you can imagine — I had LOTS!
Founded by Ramon Fernandez in 1995, Quorn Stone initially began by importing handmade terracotta tiles from Spain. Those humble beginnings belie the fabulous business it is today.
Boasting three showrooms and almost 30 years of knowledge; their passion for sourcing and importing beautiful natural stone from around the globe now spans two generations.
And this dedication comes only second to providing their customers with — not only with beautiful flooring but — excellent customer service.
What Other Flooring Do Quorn Stone Sell?
As well as limestone paving and flooring, Quorn also have a huge range of porcelain — and other natural stone too; including marble and cobbles.
The images in the next two pictures show two different kind of porcelain
Wood Effect Porcelain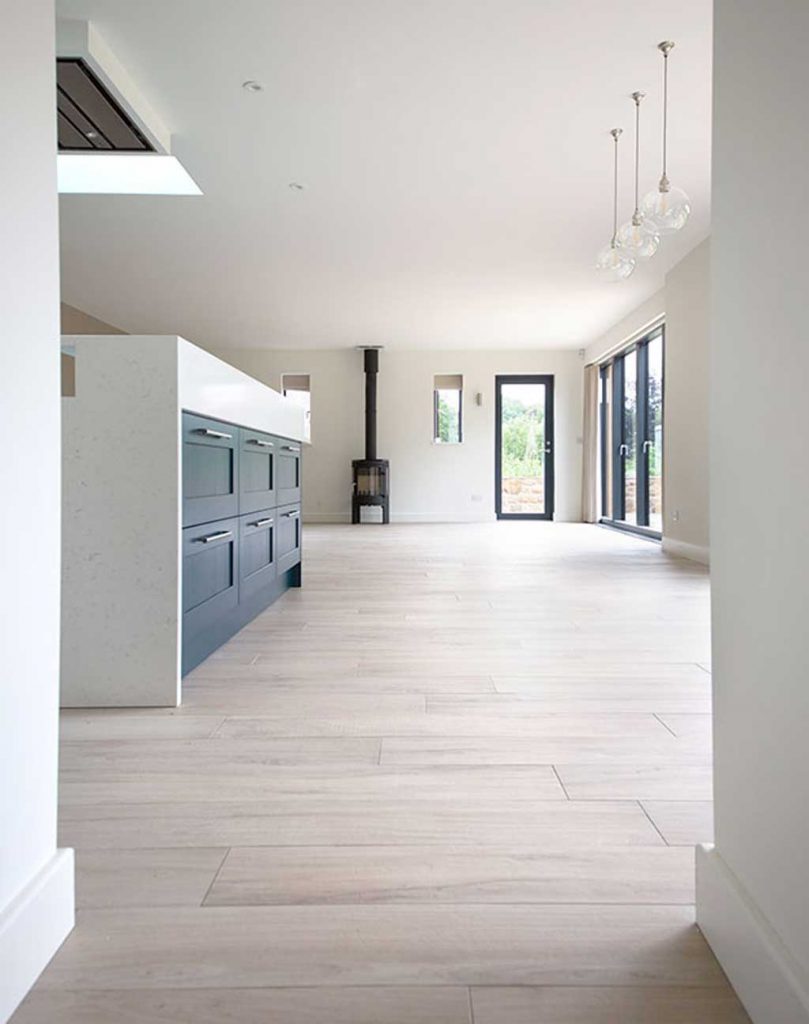 Stone Effect Porcelain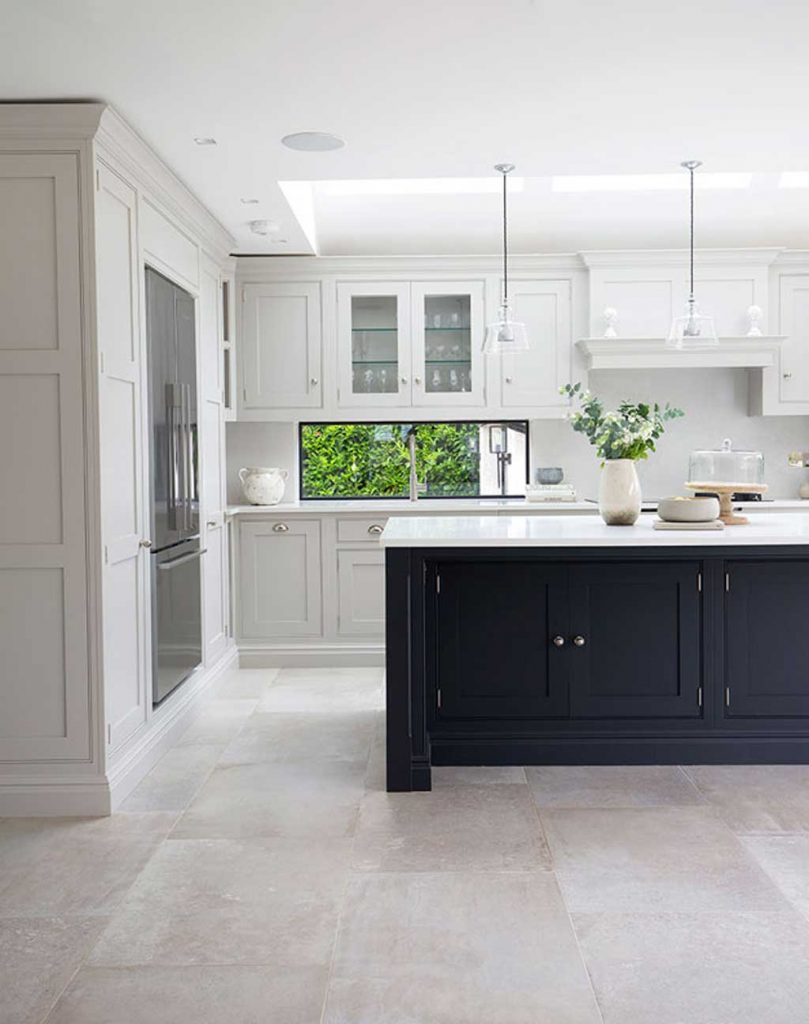 And as well as interior flooring, they also have a beautiful range of exterior stone and porcelain.
Perfect for creating a luxe garden space — or continuing a seamless look from inside to out.
The Bellemont Beige Porcelain in the image below is the same as used in the kitchen above.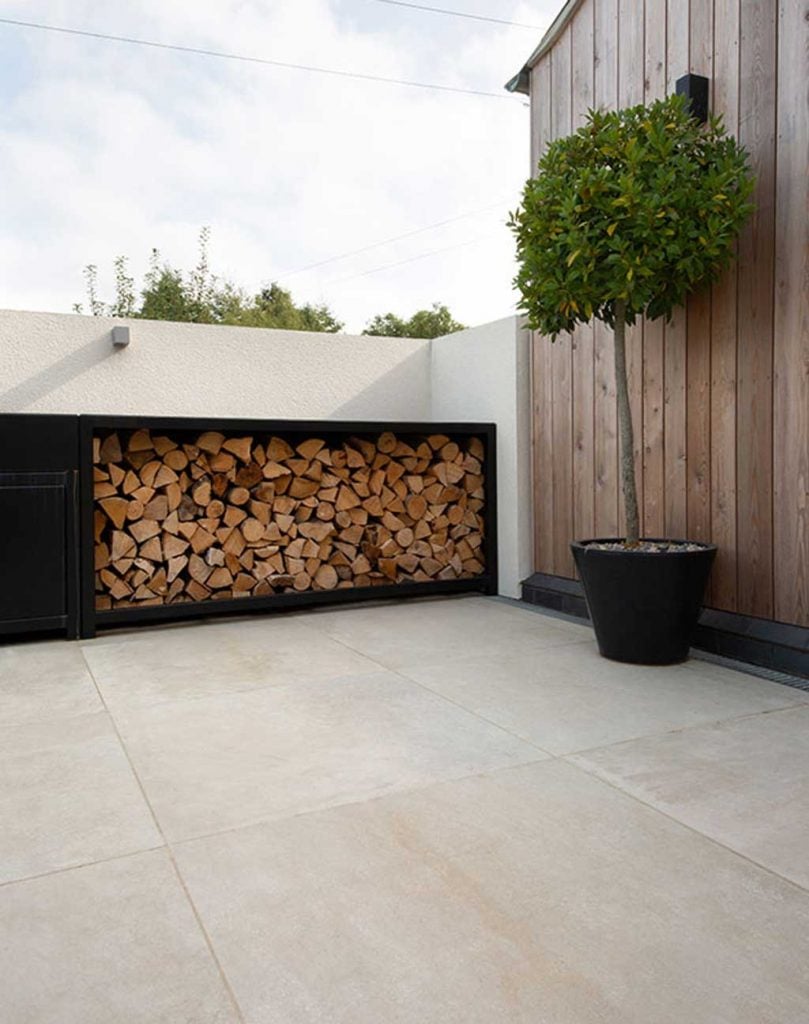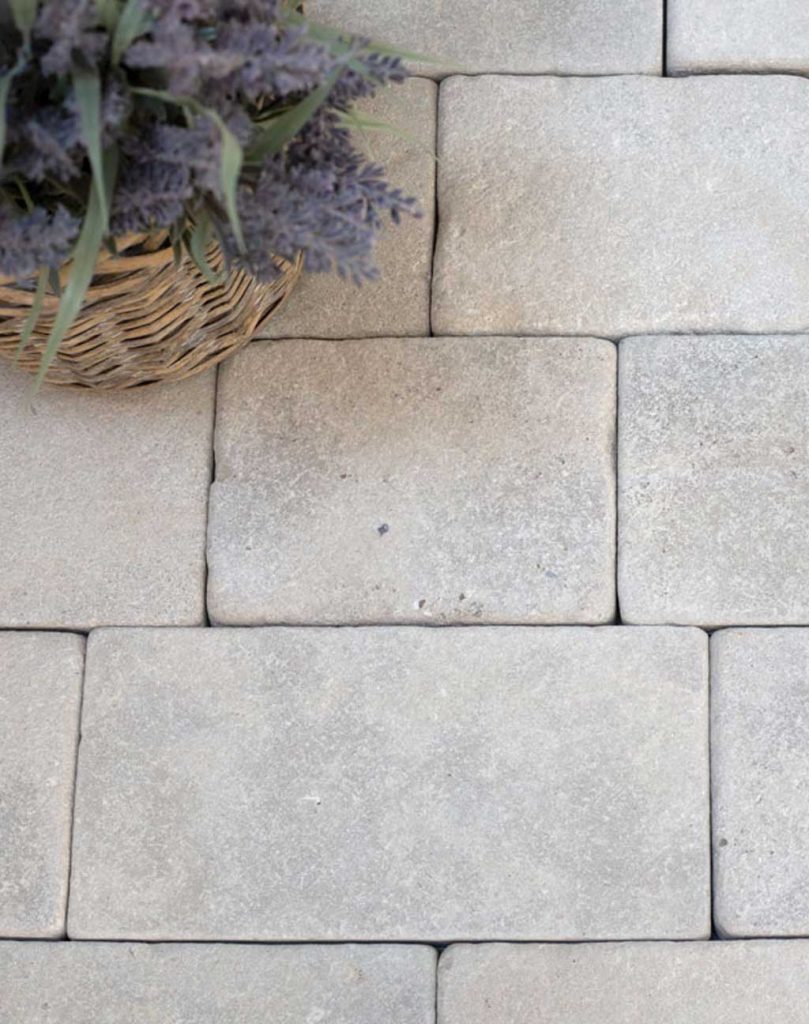 Why Limestone Flooring is the Natural Choice for Our Home
For such a long time I was set on having a poured resin floor. I thought that pale, seamless finish would be the perfect choice for our new extension.
But although I still have a hankering for white resin (one day maybe); limestone flooring is the natural choice for our 350 year old cottage.
Its beauty and simplicity work really well with the older parts of the house. It doesn't fight with the existing fabric of the building.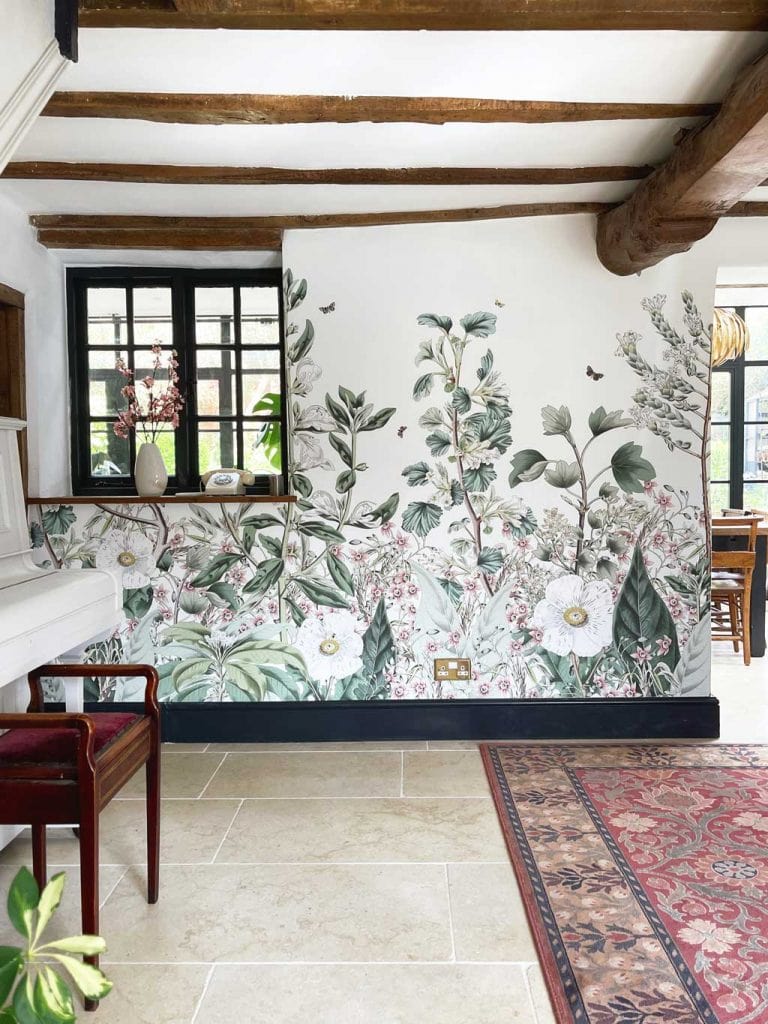 And, equally, it works beautifully with the new extension.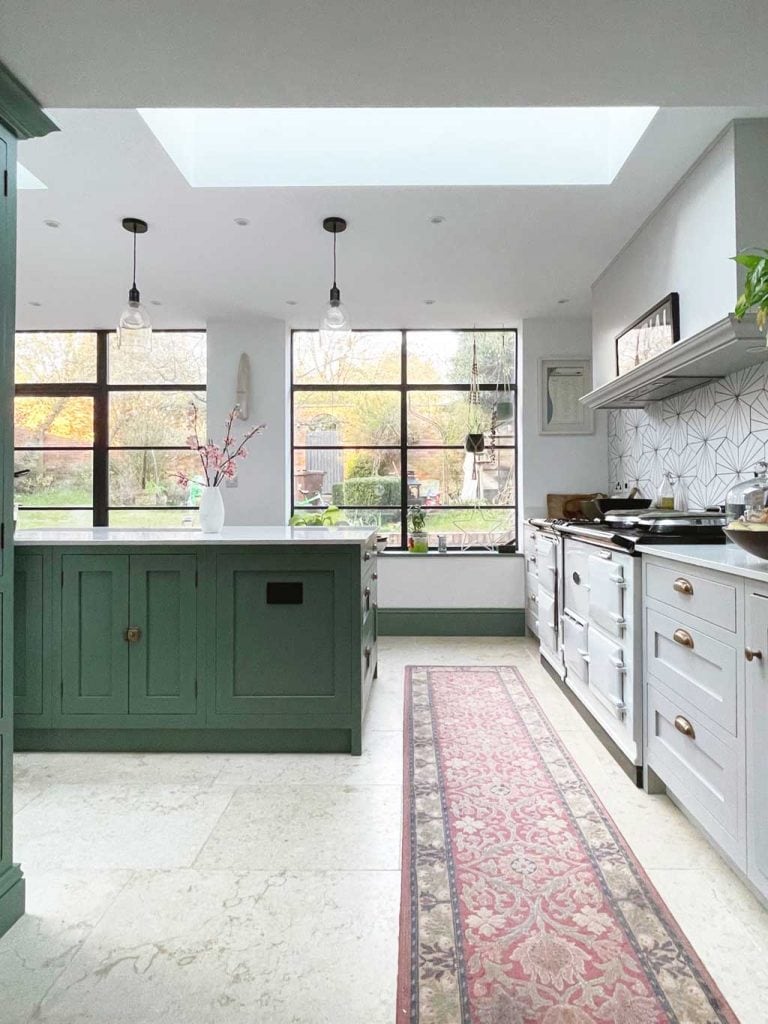 Best of all, our limestone flooring from Quorn Stone is easy to clean; which is a bonus for a family with children and animals.
And — if we look after it and maintain it properly — it should be looking this good for the next 50 years or more.
Which is probably more than can be said for me! ;)